Visit Siskiyou Gardens during the weekend of September 24-25, between 10-4 as part of Open Studios: How Art is Made, sponsored by the Grants Pass Museum of Art. Tickets are $20 and available at various locations in Grants Pass. Here's a link to the Facebook page about it: facebook.com/openstudiosgp.
Scroll down the page and you'll see a photo of several of my pieces, as shown in the flyer on the right.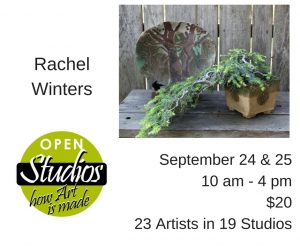 Artist's statement:
I love ancient white oaks with twisted branches and gnarly trunks; the peeling bark of madrona; and the graceful form of a Japanese maple. I love the white star flowers on kousa dogwood and the bones of beech that show when the leaves have fallen.
Rare trees and common trees. Native trees and exotic trees. Trees misshapen by weather and misfortune. Flowering trees in spring and bare trees in winter.
So how do I show my adoration? I make bonsai and the pots they live in. A combination of horticulture and art. I can train a little tree by exposing the roots and prune to emphasize each ones unique shape and character.
I create plates and vases out of clay with tree designs where I can reflect the texture of bark and the beauty of line and form.
And as often as I can I take a walk in mossy woods for inspiration and to express gratitude for wild nature.